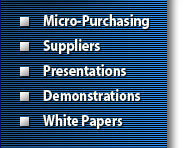 Select Frequently Asked Questions


How quickly can I receive payment for orders placed via IntraMall service centers?
IntraMall services will enable your company to receive payment within 72 hours upon shipment of your product. Our services give your customers the confidence to process purchases via electronic funds transfer or corporate purchasing cards which expedite the payment cycle and gives your company a tremendous cost savings
.
What are the benefits of being an IntraMall supplier?
Increased Visibility at Lower Costs! By becoming a supplier through IntraMall service centers, your company can drastically reduce costs in the following areas:


Decrease the number of catalogs printed and distributed. You will have a virtual catalog that allows you to change pricing, add new products and update information at any time.
You can cost effectively reach your target market while reducing spending on advertising in trade journals, magazines and direct mailings. For FY 2002, the IntraMall touched over 60% of active credit cardholders each month!
On an IntraMall you list organization specific pricing; Most companies prefer not to list pricing on their web site because they have different pricing discounts for different organizations.
Market research data is available on your company's market share; other ad hoc reports can be made.

How is the product information displayed to my customers?
You control how you display, market, advertise, and price your product line and we make it happen. Along with your company logo, you can include photos, web site links and other custom information for each of your products.

How will an IntraMall integrate into my current office environment?
We've kept it simple. An IntraMall is compatible with all forms of common IT setups. At a minimum, all your company needs is a Windows or Macintosh computer with a modem. We also accomodate most electronic data exchange technologies such as XML and CXML. We quickly enable you to use the IntraMall services and enjoy convenient transaction technologies without the risk of a large investment.

How do I become an NIH IntraMall Supplier?
Contact us at 888-644-6255 or JOIN NOW! by filling out the short online form.